Washington Governor Jay Inslee has proclaimed Oct. 30, 2013, as
Adjunct and Part-time Faculty Recognition Day
. Inslee has supported contingent faculty by signing similar proclamations since 
2003
.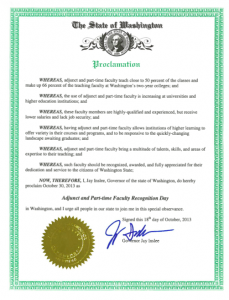 Make Campus Equity Week a standout in your state by obtaining a proclamation  from your state governor.
The procedures are often different for individual states, but a quick Google search for each state will usually get you right to the information you need to request the proclamation. You can also find good guidelines here.
Some states require more lead time than others, but you may still be able to get a proclamation in time for this year's Campus Equity Week, Oct. 28-Nov. 2.