Suggested Activities
Get tips on using social media, online resources to raise awareness of CEW.
CEW ideas from Concordia University Part Time Faculty Association (CUPFA)
graphics for promotional items
"I Am Margaret Mary" button design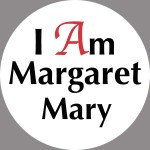 Scarlet A with slogan "Working for Change" design for Ball cap
Handouts and Posters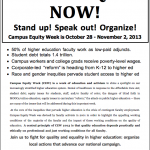 Campus Equity Week 2013 Flier (2015 version coming soon!)  – A one-page flier that gives the details for the week, the rationale behind it, and a call to action.
Campus Equity Week Report Card For Your School – Many campuses and contingent faculty activists have used this "Rate Your School"report card in efforts to organize contingent faculty and generate discussion on campus.  It's easy to use in tabling and in small meetings or large events during CEW, and it can be attached to emails to aid in generating buzz on campus and motivate turnout for activities. Adapted from Joe Berry's COCAL VI report card by Ana Maria Fores Tamayo and Vanessa Vaile.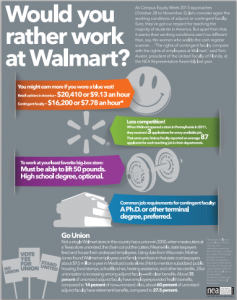 Would You Rather Work at WalMart? – A CEW 2013 poster produced by the National Education Association (NEA)
Something is Missing From This Family Portrait: A Campus Equity Week 2013 poster produced by the California College Association (CCA)'s Part-time Faculty Association fall newsletter –

This image is suitable for printing on a desktop printer. If you need a camera-ready copy for a professional print job, visit this site. Designer: Denise M. Johnson.

The AFT Campus Equity Week 2013 website has five creative full-color poster designs you can download as PDFs. Headlines range from "Welcome to my office" to "An honest want ad for college faculty."
Ads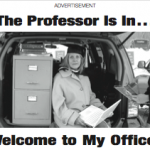 "The Professor is in" ad