Campus Equity Week events will be added as they are submitted.
To submit an event your organization, group or campus has planned for Campus Equity Week, complete the form found on our
Events tab
.
View a Campus Equity Week Event Listing by State.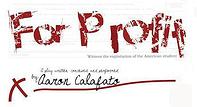 FOR PROFIT Showing at CSU East Bay
October 29th 2013 - 6:00pm

Screening and discussion, with pizza. Meiklejohn Hall 2031 Showing of the film FOR PROFIT, a Solo-Play written & performed by Aaron Calafato. The film version of the performance provides a wonderful opportunity for students, faculty, staff and community members to discuss a wide range of current issues in higher education—not just the for-profit college industry, but also the broader "for profit" mindset towards higher education today that is behind so many problems facing us, our students, and our society's educational future. followed by discussion and pizza party.

CSU East Bay
25800 Carlos Bee Boulevard, California State University, East Bay, Hayward, CA 94542, USA
For more information, email our National Coordinator, Craig Flanery, at craig.flanery@newfacultymajority.info.