the indi
VISIBLE

c

A

mpus

List of Suggested Exhibits, Events, and Other Artistic Activities on Campus and Beyond

In brainstorming the following possible art projects, we have looked to artists whose work investigates social justice for ideas about ways to engage the public imagination.  Art changes culture and cultural change leads to political change. Special thanks go to artist activists within the United Academics of Philadelphia who helped get us started, and to lead artist Jennie Shanker for her graphic design work and thematic collaboration. The Ford Foundation's "Art of Change" campaign is another useful resource (http://artofchange.is) you may wish to consult.

Progressive Installation on Campus–create sustained visibility

Establish a hub on campus that acts as a kind of installation which builds progressively as the week or month or semester goes on (depending upon how much time you can allocate to this progression), and where there is always some presence even when there isn't an activity. There may just be a table with signs, information, buttons, T-shirts, and QR codes to important websites, union pamphlets, petition for students and others to sign with equity demands (abolish student debt; tuition remission for all campus workers; job security and benefits for adjunct faculty; racial equity in faculty hiring, etc.)

There may be material from the week's events that involve people responding to prompts that are accumulated and displayed. A long banner that is written on, chalk on the sidewalk, things hung off of temporary clothes lines, trees, attached to poles, etc….

Public Art Projects–make issues visible to everyone who passes through public space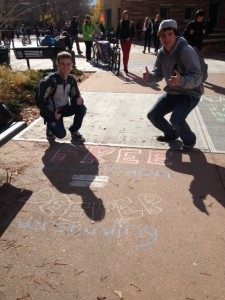 Make the central feature of the installation hub a large-scale public art project based on any of the ideas described below.
Economics–make the economics visible
Create something concrete to something that reflects the scale of contingent employment in some way, i.e., the big picture of economics of contingency,.  For example,
represent how many jobs adjunct faculty may work on your campus, either by showing  sample schedule for a few single faculty members who work for multiple employers, or display a gigantic word "ADJUNCT" punctuated with a question mark with the surface of the word being comprised of individual post-its or cards, one for each of  the course sections listed in the semester's course offerings that are being taught by contingent faculty. Include a curator's note of the definition of "adjunct" with the totals of the numbers displayed (clearly showing that adjunct work is the majority of the teaching). This idea came form SUNY Plattsburgh lecturer Richard Aberle and was used on several campuses during National Adjunct Walkout Day in 2015.
"Follow the money" in higher ed by mapping its routes and showing how much goes where.  Prepare an easy to read chart or graph that clearly places the amount or percentage of the funds dedicated to compensation of contingent faculty within the context of other components of the budget.  Effective illustrations could be the portion of a single student's tuition that goes to paying and adjunct instructor, or conversely, how many students in a single class are paying the instructor's entire compensation for that course (it may be only one or two students) and then ask or show where the rest of the money is going per student capita for that class.
The artwork could show the economic trends over time at universities, like a graph of tuition rise rising in relation to faculty salaries decreasing in real dollars, admin salaries and rise in contingent workers, the contingent struggle/the disparity between administrator pay and contingent pay (ex: a contingent worker would have to teach ___ courses per year to earn the salary that the University president earns), the number of contingent faculty compared to tenure-track faculty, something that shows how much the school relies on contingent labor.
Money is always a generative, captivating symbol. Feature physical currency ("adjunctcoin" a la "bitcoin") that reflects the exchange rate for contingent labor. Capitalize on Rebekah Tolley's "adjunct dollar"
Adjunct Dollar Back                                 Adjunct Dollar Front
Reproduce the silkscreened "adjunct dollar" and hand it out at events as the "currency" of this profession and/or make "coins" of the education realm engraved with the faces of contingent faculty, especially if you sponsor games that have prizes or involve betting (a casino night?).
The life of contingent faculty certainly is a game of chance; host a tournament of poker, or bingo or monopoly, and/or make "coins" of the education realm engraved with the faces of contingent faculty.  Or construct a gigantic house of cards made from the rectangular yin/yang playing card motif  printed on large card stock.  How high can the structures go before it topples over?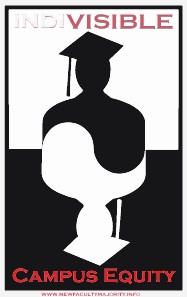 Adbusters—make visible the reality behind the myths still being perpetrated
 "Our common language today is advertising; I incorporate advertising icons and allusions in my work." (visual artist Hank Willis Thomas)  Use the Absolut vodka ad for a series of images that show the absolute inequity of employment practices in higher education.  Or appropriate the Nike swoosh graphic for messaging related to sports and the exploitation of coaching staff, most of whom are contingent and poorly paid. Using familiar corporate logo elements would convey how "branded" the campus, its faculty and students, have become.  Here is an example by Robert Craig Baum: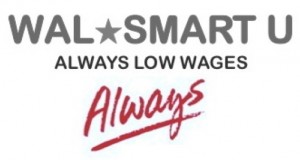 We're all aware of the invisibility of contingent faculty in all the promotional materials for colleges and university.  Many are not even listed in campus directories.  Just a "students of color are grossly overrepresented in photographs of student groups that colleges use to prove they are diverse, greatly exaggerating the actual diversity", images of faculty always promote the tenure-track as if it were the norm.  Contingent faculty are not featured proportionately in PR materials for colleges, when they are featured, they are used to promote a message that adjunct faculty don't need or want to be paid for their work because they love teaching and highly value the status of being a professor.
Display a patchwork of contrasting images paired to show the myth versus the reality, e.g., the ivory tower vs. an actual office in a basement or car; the tweed jacket lounging professor vs. the adjunct rushing across the parking lot or eating in the classroom doorway or hallway . . .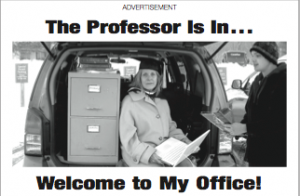 Framing–make visible the lenses through which we view academic employment
Hank Willis Thomas (visual artist) urges activists to use actual frames to metaphorically explore how things are framed, in what's outside of the frame, where identity comes from, the stories behind the stories and how the status quo changes. Use frames to show how the college experience is packaged, segmented, divided, warped . . . frames within frames.
Visually or actually cut things in half, or into parts, an analogy/parody of anything that isn't fully committed to or usable. They could be labeled as "Part-Time" or "Contingent Work." If there is a kiosk or hub, half of it can be rendered unusable, or maybe it leans; cut chairs in half, have t-shirts printed that are divided into sections (like the way meat cuts are diagramed on animals), or people can be given markers and personally divide up a shirt into proportional parts.
Rebrand the academic employer, which many view as wholly benevolent, as a bottom-line corporate employer. For example, read aloud "Tina Fey" emails from your administration – have someone publicly perform offensive emails etc. sent from higher-ups (as Fey did with Sarah Palin, performing one of her speeches word-for-word).
Publish or perform narratives from adjuncts at other campuses that describe the fight for equity and quality education so that livelihoods of faculty on your campus will not be endangered.
Show the Work–make visible the quality and quantity of contingent contributions
A curated exhibition of the scholarly work of contingent workers from all kinds of disciplines, especially if their work relates to the struggle – there could be a theme/prompt/challenge, perhaps a series of curated events on the same day in different spots on campus.
A large scale work composed of all the pages of papers graded showing the instructors' written comments during one semester with a caption that counts the number of words read, the number of words of commentary written, or the number of emails received and answered.
An exhibit or Instagram publication of photos that contingent faculty take during a set time period, like a week.  They could be focused on their working lives (or go beyond that restriction?) Labor leader and McArthur Grant Awardee Ai-Jen Po described an exhibit wherein domestic workers were asked to photograph what they saw.  "The images they put together were very diverse–the workplace, home, the branch of a tree, but it allowed us to see the world through their eyes. The more eyes we see the world through, the more beauty we can touch." What do contingent faculty see as they work?
-Create a memorial to something we've lost in the process of university corporatization that people can contribute items to (this can have a week-long presence).  CFA did this as a funeral march through the campus, stopping at certain spots to allow different speakers to deliver eulogies about the "dead" characteristic–such as academic freedom, shared governance, time for professional development, etc.
Public Participation
Solicit public participation in generating visual/audio components connected to the central art project. Leave time in events for an open mike component or a story circle.  Each person can say something about their work as educators or about their experience of being taught. End each event with a song. Select a familiar song whose lyrics you can customize that will serve as the audio icon for all events that week, in radio announcements, kicking off each program or display, etc..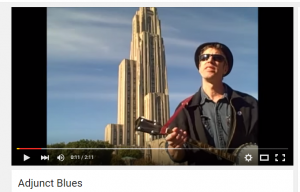 Have a public silkscreen station for printing contingent messaging on t-shirts and other items. People can BYO item to be printed on. Consider having a template with the possessive form of the institution's name followed by " . . .  Biggest Donors–Adjuncts."  Eg., "George Mason University's Biggest Donors–Adjuncts."  Or silkscreen "adjunct dollars" to augment the minimum wages these faculty receive.
Hold a contest for best poem (best slogan, best fact, best image . . .) related to our issues.
Using prompts for group texts
Use a prompts to create collective texts in various mediums: poems, stories, songs, video clips, collages of images . . .
Create a group poem with a prompt that begins each couplet or stanza of a collective poem: "Education is . . . " or "Social justice means . . ."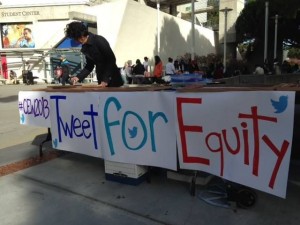 Ask contingent workers to respond to a prompt (ex: how would life change if you had one full time job? Or: What does equity mean to you?). Write the collective comments on something symbolic…like a sample appointment letter or a paystub that gets hung around campus (off of clotheslines that are strung at building entrances, or taped to buildings, light poles, hung from trees, or otherwise connected to random locations at school.)
Recruit students, parents, faculty, and others to talk/write about the impact adjuncts have had on their lives and create an anthology of "exquisite corpse" poems/stories/images (they could be collected and displayed, or published, or in some other way disseminated)
http://www.poets.org/poetsorg/text/play-exquisite-corpse
* It moves more quickly if each participant writes two lines, then folds the page so only the second line is visible, and that line informs the next participant's two lines, etc…
Establish a photo station where workers and/or students get their photo taken and answer some kind of prompt for a picture & quotation, documenting the many faces of contingent faculty and use those photos/testimonies on an ongoing basis.
Ask people to draw how they see themselves as professors, how they want to be seen, and then how they think students or admins perceive them. Collect these images and display them.
Make Connect-the-Dots-of-Education puzzles or HE employment Trivial Pursuit games  (or an education version of Monopoly?) for people to play or fill in with crayons and display these together.
Involve students by asking them about their experience as part-time workers, and their concerns about the workforce in the future. This could be something on video, or something students write on a long blank banner…something visible and public.
Create a documentary collage of 10-second clips from people saying what something (the word "equity" or "education" or "degree") means to them on video.
See also the "Casino Night" ideas under Economics heading.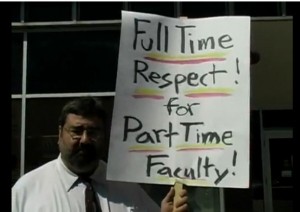 Slogans for messaging via chants & PR materials
Equity this week, Equity every week
Welcome to (This college's name)'s Part-time Workplace
Part-time Pay for Full-time Accountability
Part-time Pay for Full-time Responsibility
Inquiring Minds Mind Inequity
Iniquity is Only One Letter Away from Inequity
Part-time here, part-time there, part-time workers everywhere: unfair!
Same Employer, Same Fight – Campus Workers + Students Unite!
Quality Education – Fair Wages, Benefits and a Voice on Campus for All!
Our Destiny: Dignity and Equity
Adjunctivitis is a social justice disease
Faculty Deserve Respect
Recipe for Equity: (list demands . . . )
University Equity Ensures Integrity
Teaching is not Charity Work
Students' Learning Conditions Depend on Faculty Working Conditions
You Can't Put Students First When You Put (Adjunct) Faculty Last
This University / models a society / without equity.