We are offering New Faculty Majority Campus Equity Week Grants to help local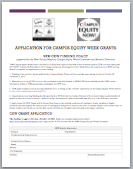 organizations with scarce resources to sponsor Campus Equity Week activities during CEW 2013, October 28 – November 2.
Organizations are encouraged to solicit funds from other sources as well; NFM funding should be regarded as supplemental to other funding.
The NFM Campus Equity Week Grant is for activities that are publicized as Campus Equity Week activities and take place during the period October 28- November 2, 2013.
how to apply
Applications for NFM CEW Grants will be favored that focus on the working conditions of contingent faculty members in higher education, and also explore the consequences of contingency in higher education on the most vulnerable students and intersections, on diverse students and faculty, on student debt, on the stratification of higher education and on the larger workforce.
Download the application, which includes submission details. The deadline to apply is Monday, October 14, 2013. Send your completed application form to maria.maisto@newfacultymajority.info. Applications will be reviewed by the NFM Campus Equity Week Committee.